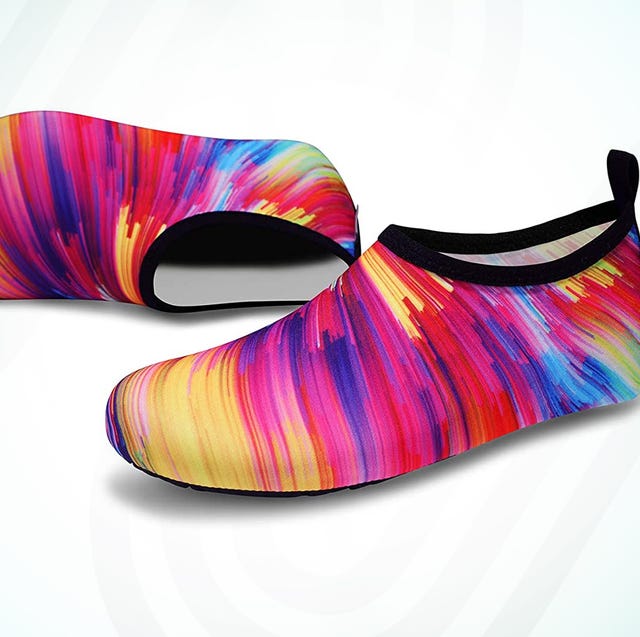 Staff, Courtesy of VIFUUR
While you can generally get away with going barefoot in the yoga studio, practicing yoga without shoes in nature can be a riskier proposition. Whether you're on the beach, in the forest, or on your back patio, practicing outside in bare feet can mean your tootsies take a beating, thanks to rocks, sticks, and leaves that can cause you to slip.
Investing in a good pair of yoga shoes can not only help to protect your feet from cuts, bruises, and blisters, but it can also make your practice more enjoyable, and allow you to get the most out of your flow, whether you're wearing them in the studio or the great outdoors. Unlike sneakers or other casual shoes, yoga shoes are designed to be flexible enough to move with your feet, providing some support and grip without inhibiting your movement.
We've rounded up some of our favorite yoga shoes on the market to help make the shopping process easier. Look below for in-depth reviews of our favorite pairs to help you choose one that's right for you.
Best Yoga Shoes
How to Choose Yoga Shoes
If you decide to invest in a pair of yoga shoes, there are a few things to consider before making your purchase. The most important part of the shoe will be the sole. Most will be made from some sort of rubber, though some will be thicker than others. The thicker the sole, the better it is for uneven surfaces, but the less flexible it will be.
Also consider the design of the shoe's upper portion. If you tend to get warm or have particularly sweaty feet, you may do better with a more open and breathable design. The material of the upper is also important. While some may be quick drying, that doesn't mean that they will be breathable—if you are looking to keep your feet cool, look for shoes with cutouts that allow your feet to get some air, or shoes with areas made of mesh.
How We Selected
To find the best options among the many yoga shoes out there, we researched the most popular models available and considered the price, design, fit, and durability, as well as their size and color options. We looked at both expert reviews as well as more than 144,000 customer ratings, written by people who've bought these models on Amazon, to settle on the yoga shoes you'll find below.
Looking for more great yoga gear? Check out our guides to the best yoga mats, yoga blocks, and men's yoga pants.
Advertisement – Continue Reading Below
1
Best Overall
Water Sports Unisex Shoes
Key Specs
Sizes: Women's 4 to men's 12
Color options: 44
Functioning as both water shoes and yoga shoes, this model is easy to slip on, and conforms to your feet like a second skin. It comes in 44 different color and pattern options and sizes range from women's size 4 up men's size 12. They have a grippy, but flexible rubber sole, and the upper material dries quickly. They are super lightweight, and can even be rolled up and shoved in small pockets.
2
Best Arch Support
Original Women's Foldable Active Lifestyle Minimalist Footwear
Key Specs
Sizes: Small to XL
Color Options: 11
These shoes are designed with women in mind, and have a narrower fit at the ankle than many other available yoga shoes. They feature a flexible but supportive sole, and a stretchy knit upper. They also have an elastic band that runs diagonally across the foot, giving you more arch support, and they have an extra layer of material on the front to protect your toes.
3
Best for Hiking
Barefoot Shoes
Key Specs
Sizes: Women's 4.5 to men's 13.5
Color Options: 43
These shoes are great if you prefer a little bit more support underfoot, as the sole is slightly thicker than those found on other yoga shoes. The shoes have adjustable ties, which allow you to tighten them to your liking, and a grippy, flexible rubber sole.
They come in tons of colors, and are available in sizes ranging from women's 4.5 up to a men's 13.5, making them a great fit for the whole family. Since these have a bit more bulk to the sole than many other yoga shoes, they also make a great minimalist hiking shoe.
4
Best Sandal
Yoga Sling 2 Black
Key Specs
Sizes: Women's 5-11
Color Options: 26
These sandals are yoga mats for your feet—literally. The soles are made from actual yoga mats, which gives them a super soft, plush, and flexible feel. Unlike typical sandals, these use stretchy cloth for the straps, allowing your foot and ankle to flex and bend comfortably.
They do run about a half-size big, so if you are between whole sizes, it's best to size down.
5
Most Flexible
Crossovers
Key Specs
Sizes: Small to XL
Color Options: 4
If you want a yoga shoe that doesn't restrict your movement or add too much bulk to your foot, you may prefer this style, which is similar to a ballet slipper.
It has two bands of elastic on top, which prevent it from slipping around and give it a supportive feel. It also has a more open top, making it a great choice for anyone whose feet tend to get hot during workouts. It has a thin rubber sole that adds some grip, and an extra layer of thick fabric at the front to protect your toes.
These come in sizes small to XL, which correspond to women's 5.5-6.5 and women's 10-11, respectively.
6
Best for Balance
Five Fingers Women's V-Soul
Key Specs
Sizes: Women's 4-11
Color Options: 3
These toe-separating Vibrams are a polarizing pair of yoga shoes, with many loving them for their comfort and support and many others finding their design a bit ridiculous. And while they may look a little silly, they're actually great for yoga, because they allow you to enjoy a full range of foot motion, which helps you balance. In addition to yoga, they are great for light hikes, walking, and cross-training.
Not only do they provide great grip, they leave most of the top of your foot uncovered. so your feet won't get too hot while wearing them.
This content is created and maintained by a third party, and imported onto this page to help users provide their email addresses. You may be able to find more information about this and similar content at piano.io
Advertisement – Continue Reading Below
https://www.runnersworld.com/gear/g39204436/best-yoga-shoes/