March 30, 2022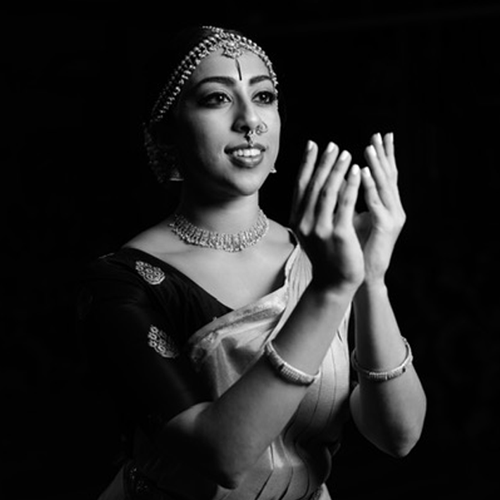 At their first meeting for her clinical rotation in family medicine, College of Human Medicine student Pallavi Prabhu and Eric Bouwens, MD, talked about the importance of cultural sensitivity in treating patients.
Bouwens, a clinical assistant professor of family medicine and a physician at Mercy Health Physician Partners, emphasized "getting to know each patient and meeting them where they are," Prabhu recalled. "After each patient interaction, we would discuss what are the cultural issues with this patient, what are the language barriers?"
The student and the doctor found they also shared an interest in dance – Bouwens in ballroom and Latin, Prabhu in a classical Indian form called Bharatanatyam.
They were unaware at the time that their mutual interests would again bring them together to raise money for a hospital treating patients of another culture 12,000 miles away in Nepal.
Prabhu, a third-year student born and raised in Ann Arbor, had been practicing and performing Bharatanatyam since she was 5 years old as a way of connecting with her ancestral culture. Her father, a cardiologist, and her mother, an anesthesiologist, were born and raised in India.
In January, Prabhu was asked to perform for "An Open Heart Heals," a virtual fundraiser for Ek Ek Paila, a nonprofit founded by Nepali physicians to provide health care in remote areas of Nepal. She decided to perform a Ganesha Invocation, a dance honoring a Hindu god revered as the remover of obstacles.
Prabhu asked Bouwens to recommend a dance studio where her performance could be recorded, which he did. When she had trouble finding a videographer, she again contacted him, aware that he was a photographer for Grand Rapids Ballet.
Although he was experienced in still photography, Bouwens, encouraged by his wife, Alice, agreed to video record Prabhu's performance.
"My wife just jumped at it," Bouwens said. "She said, 'Of course we're going to do it.'"
On Feb. 5, the couple met Prabhu at a dance studio, set up equipment, and recorded nine takes as she danced to music and lyrics in the ancient Sanskrit language. Bouwens edited the video and uploaded it for the virtual fundraiser. As of mid-February, Prabhu's performance had been viewed countless times worldwide and helped raise more than $30,000 for a hospital in rural Nepal.
Bouwens conceded he knew nothing of Bharatanatyam before shooting the video, but he said: "To be invited into that world, it was an honor. It was really enjoyable."
"It came out beautifully," Prabhu said. "I had never imagined that this kind of artform could have this impact."
She sees a parallel between her interests in dance and medicine.
"In both art and medicine," she said, "our goal is to make you feel better when you leave than before you came."
---
Photo and video courtesy of Eric Bouwens Photography.
https://humanmedicine.msu.edu/news/2022-art-and-medicine.html