The global baby and infant nutrition market is transitioning from ingredient selection to the delivery process. Cases of dairy intolerance continue to rise, and many well-known infant nutrition products have been found to contain high levels of heavy metals. As a result, there is a greater demand for a sustainable new source of protein, and Else Nutrition Holdings Inc. (TSE: BABY, OTCQB: BABYF) is gaining a competitive advantage by filling this market gap. The market for new baby food and nutrition is thriving, with excellent prospects for rapid growth and significant investment in innovation. According to Market Data Forecast, the global infant nutrition market will reach $61.6 billion by 2027, growing at a 7.7% annual rate between 2022 and 2027.
Else Nutrition is a clean labeled plant-based food and nutrition company based in Israel that produces all-natural, dairy-free, soy-free, and healthy food and nutrition products for infants, toddlers, children, and adults. The company's products are made from almonds, buckwheat, and tapioca and are free of hormones, antibiotics, gluten, and other toxic substances to aid in children's growth and development.
Else Nutrition saw a nearly 300% gain in revenue in 2021 and was named "Best dairy alternative" at the World Plant-Based Expo in December 2021, making it a strong contender in the infant formula and pediatric nutrition markets. Moreover, Else's Plant-Based Complete Nutrition for Toddlers reached Amazon's #1 best-selling baby and toddler formula and received the Good Housekeeping Parenting Award and Best Dairy Alternative Award in 2021.
Thanks to the strong performance of products in both online and retail channels, specifically the rapid growth on Amazon, the company expects a 40% increase in QoQ in the first quarter of 2022. The recent developments show that the company is likely to continue to grow in the long run, resulting in a considerable increase in the stock price.
Else Nutrition to provide accessibility to low-income families
Every infant and child has the right to good nutrition. Thanks to the Federal Supplemental Nutrition Assistance Program (SNAP) benefits, low-income families can also have access to the cleanest, purest, and most complete nutrition through Else Nutrition products. Recently, Else announced that Amazon will now accept purchases of its products via Electronic Benefits Transfer (EBT), used in all 50 states, the District of Columbia, Puerto Rico, the Virgin Islands, and Guam. The allowance of purchase via EBT is likely to increase the company's brand awareness by potentially reaching millions of eligible families participating in the program, which should accelerate revenue growth.
The use of the cleanest ingredients and the most stringent processing methods to ensure purity has resulted in the company winning awards, receiving positive reviews from parents, and experiencing significant revenue growth.
Else Nutrition's products improve feeding related disorders and symptoms
In an independent study conducted by GetWizer, a third-party global market research firm, it was discovered that over 75% of parents whose children suffered from gastrointestinal problems while using another formula or supplement reported that these symptoms improved after using Else Nutrition Products. According to the pilot study, the top reported reasons for starting Else Drink were a plant-based diet or a healthy lifestyle, natural ingredients, and aid in treating a clinical condition such as allergies. 
Another recent study discovered heavy metals in 50 popular ready-made baby food products, including measurable levels of cadmium, inorganic arsenic, and lead in each. Else aims to address these heavy metals issues by developing a safe line of newborn nutrition products that parents can rely on.
The company recently released its Super Cereal for Babies, the first and only baby cereal product in the United States to receive the Clean Label Project Purity Award, which analyses products for over 400 impurities, heavy metals, and toxins, including arsenic and lead cadmium. Demand for healthy and natural infant nutrition is growing, and Else Nutrition continues to push the industry toward safer and better newborn nutrition standards by introducing products like Super Cereal.
The bottom line
Else Nutrition benefits from its proprietary ingredient processing procedure, ensuring its baby products' greatest purity and ingredients. With significant online sales growth and education and marketing efforts to help pediatricians and parents understand the nutritional benefits of plant-based infant products, the company is leading the way in transforming this industry and is well-positioned to expand its market share in changing infant and baby food market.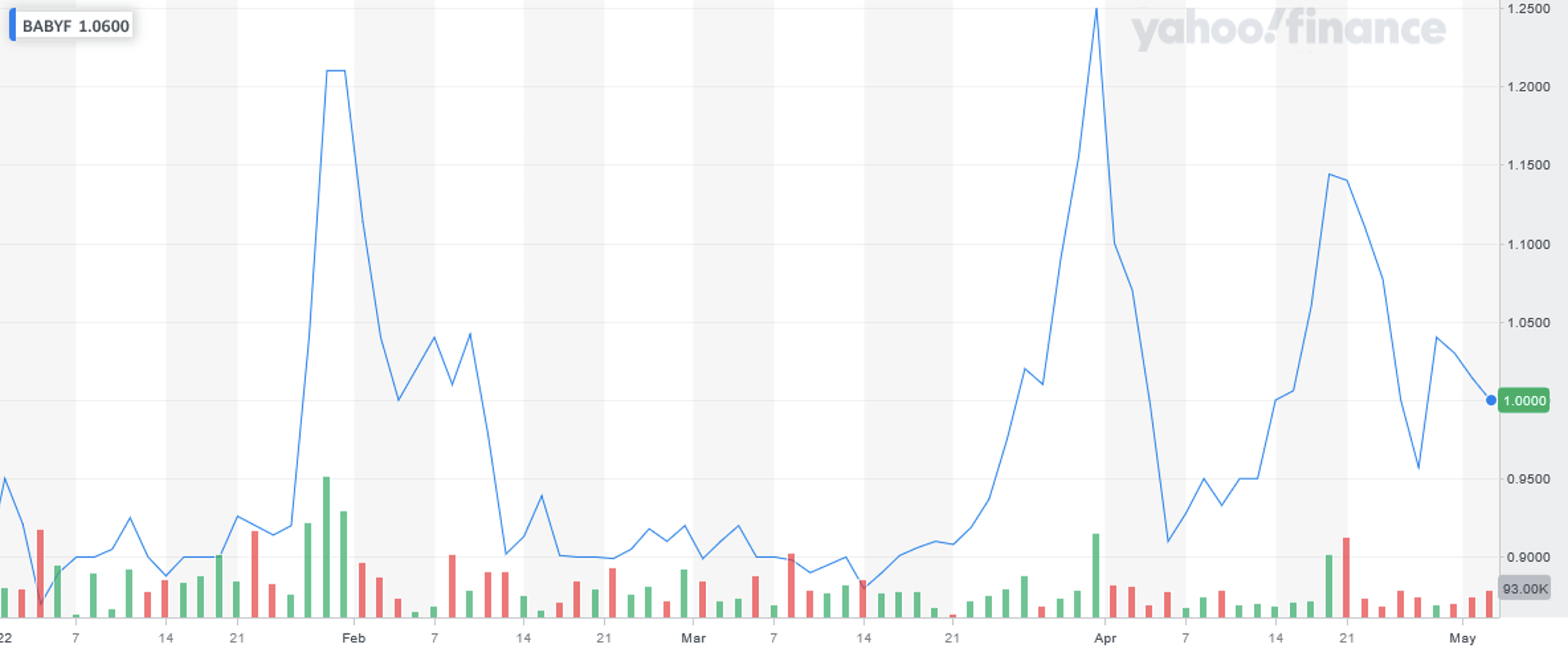 https://www.fxstreet.com/news/else-nutrition-tse-baby-achieves-another-milestone-posed-to-become-infant-nutrition-leader-202205101041