The process of healing begins with something so simple, so innate. Listening. Many of us are born with the ability, but time and experience, when interwoven with compassion, hone it into a skill that can help heal.
No matter her the person's age, background or situation, Dr. Sara Doguet, family medicine physician with Lourdes Physician Group in Youngsville, always takes time to carefully listen and engage each patient in discussion about their health concerns.
"It's important to me to make eye contact and face the patient directly," Dr. Doguet said. "If I'm looking at the computer or a chart, it looks like I'm not paying attention, even if I am listening. I tend to have a lot of open charts at the end of the day because I'll ignore the computer in order to look at the patient and make sure they know I am hearing them."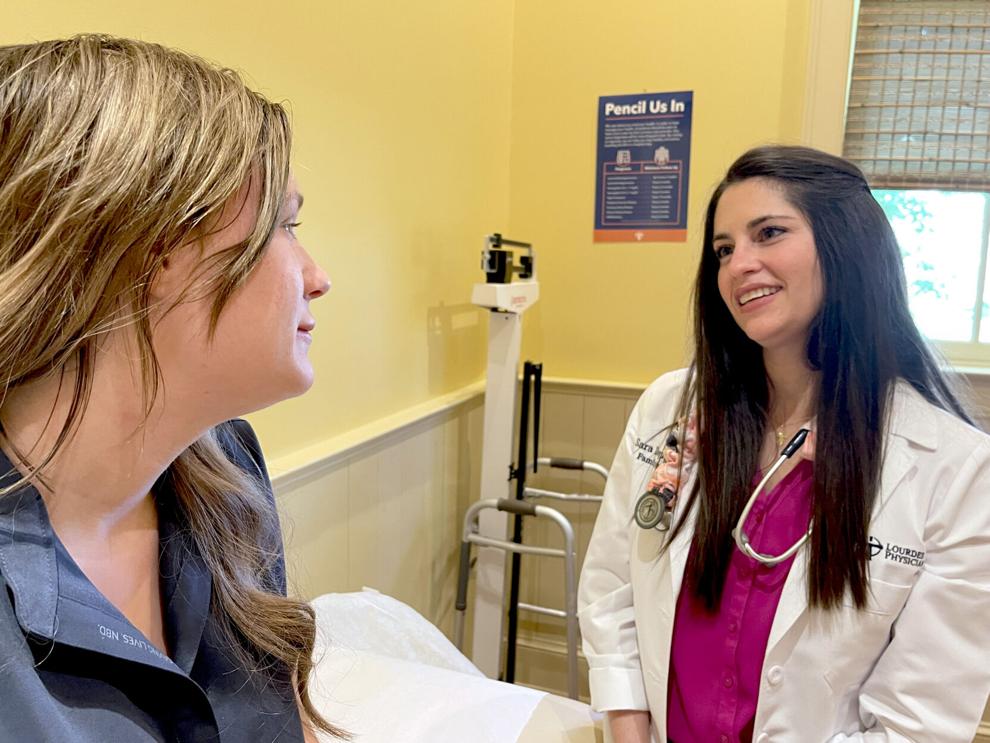 Active listening helps Dr. Doguet provide better care to her patients. On multiple occasions, she's noticed someone's facial expression or mood change in response to a question, which is often an indication to her that something has come up that needs to be addressed.
"If you're staring at a computer instead of the patient, you'll miss those non-verbal cues," she said. "When I see that body language change, I know that we're on to something."
Over the past two years, Dr. Doguet said she has paid even closer attention to her patients' mental and emotional health and how it may be impacting them physically. She's noticed more people facing issues like anxiety and depression, especially when they couldn't participate in normal activities or see others regularly. When a patient arrives at her clinic, they undergo a mental health screening to help identify any problems.
"A lot of times, a patient comes in for something unrelated, but once we start talking about what is going on in their lives, the mental health aspect comes up," she explained. "I find that it's more important than ever to make sure we address that. I take it seriously when someone says they are having emotional challenges, because it's a huge part of their health and it's important to take care of it and not let things slip."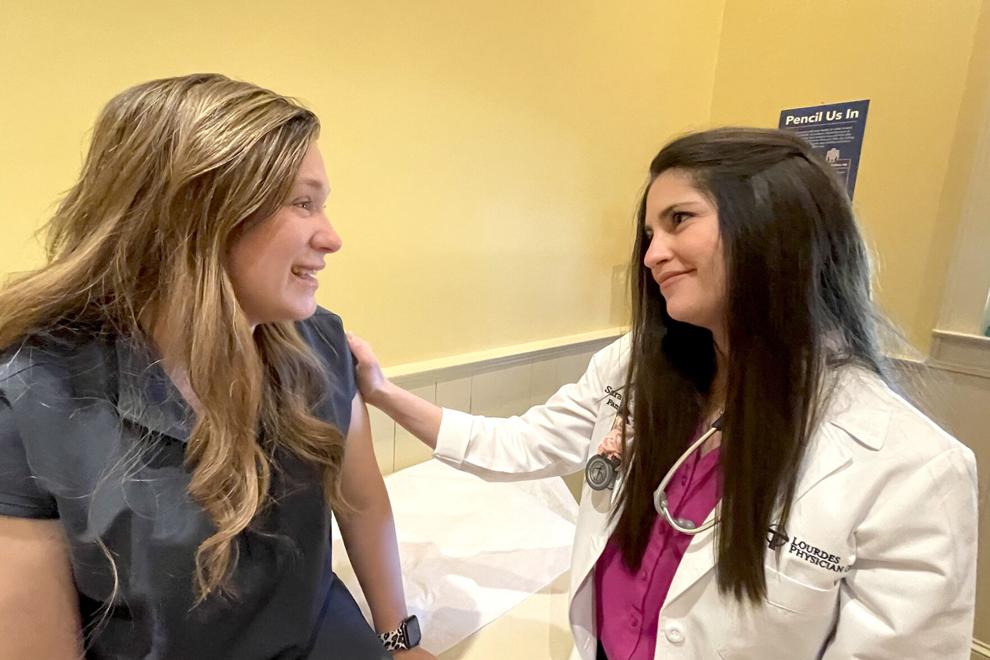 When Dr. Doguet was studying medicine in college, she took advantage of an opportunity to shadow a family physician at his practice. Although she only spent about a week with him, the experience made an indelible impression that remains with her to this day.
"Being able to see the patient interactions he had, the relationships he had with them and how he truly got to know his patients across generations really drew me to family medicine," Dr. Doguet recalled. "I knew then that I wanted to focus my own practice on primary care and seeing entire families."
In addition, Dr. Doguet found herself drawn to helping patients in rural communities. She grew up between Eunice and Basile and graduated from high school in Iota before attending LSU in Baton Rouge and LSU Medical School in New Orleans. While a student, she enrolled in a rural scholars program for upcoming primary care physicians. That work took her to Jennings for five years before she took a position with Lourdes Physician Group in Youngsville.
Dr. Doguet said one of her favorite aspects of her career is treating patients of all ages, meaning she often cares for multiple generations of a family at the same time.
"It's really rewarding and unique because, as a family physician, you can see someone throughout their life and develop a true relationship," she said. "It almost becomes like a friendship. I'll ask my patients about things going on in their lives or vacations they've been on. I find that it helps them trust you and participate in their care more. You are really focused on their whole life and the entirety of their health."
Having strong relationships with her patients not only helps Dr. Doguet pick up on subtle changes but also allows her to approach visits in a more conversational manner. Rather than peppering patients with questions from the outset, she encourages patients to talk about their concerns openly and at length before delving deeper into specific issues.
"I think that's why it's good for patients to make a list of things to talk about before the visit," she said. "If there's something bothering you or questions you want to ask, write them down. If you have everything prepared and know what you want to go over, you can listen to the answers and participate in the visit more fully, rather than trying to think about the next question to ask."
– Dr. Sara Douget is part of the growing Lourdes Physician Group, a network of over 100 providers in more than 20 specialties, including cancer prevention, diagnosis and treatment, cardiology, family medicine, pediatrics and surgery. With locations throughout Acadiana, world-class primary and specialty care is available within minutes. Virtual visits, same-day appointments and online scheduling make receiving the care you need more convenient. Call (337) 470-GoMD (4663) or visit LourdesRMC.com to schedule an appointment.

https://www.theadvocate.com/sponsored/acadiana/our_lady_of_lourdes/article_6dc1bd5c-b4d7-11ec-8ca6-73c18992e12e.html