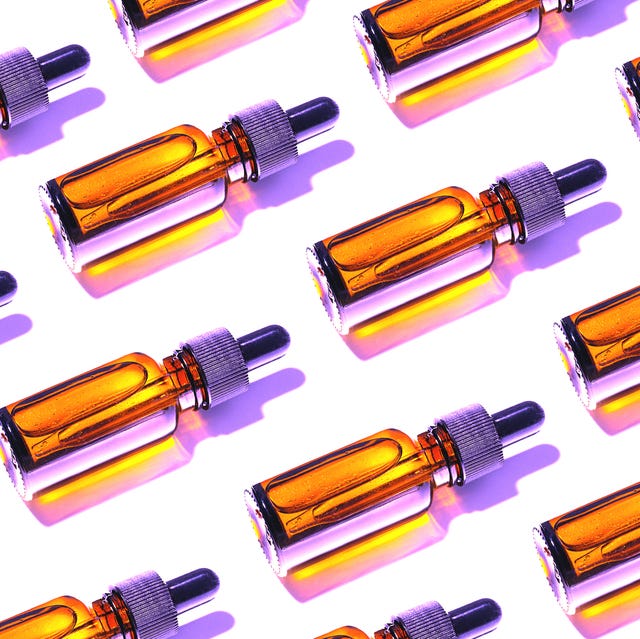 Iryna VeklichGetty Images
Buzzy ingredients certainly come and go in the beauty world, but retinol has maintained its staying power simply because of its efficacy. From treating acne to helping with a bevy of anti-aging concerns including wrinkle-reduction and skin plumping, there's really nothing quite like retinol…or is there?
Enter bakuchiol, a plant-based antioxidant with calming and antibacterial properties. Bakuchiol is being hailed as a retinol alternative these days and rightfully so, says Anna De La Cruz, vice president of product development and master aesthetician at Glo Skin Beauty. Clinical studies show the ingredient delivering retinol-like results including improvement in skin texture, tone, and elasticity.
The cherry on top? Many of these benefits don't come with the pain points some people experience using a true retinol-based product, including redness, dryness, and irritation. That's likely because compositionally, bakuchiol is unlike retinol. "It's important to note that retinol is part of the vitamin A family of ingredients while bakuchiol is not," says De La Cruz. "The greatest similarities between the two have to do with the skincare benefits they provide, from acne to aging."
If bakuchiol sounds too good to be true, well, it's not—at least not if you have sensitive skin. Sometimes a less aggressive approach with skincare can yield better results, however counterintuitive that may seem or sound. How do you know if bakuchiol is worth adding to your skincare regimen though, and what's the best way to do it?
Learn more about this youth-boosting ingredient here, and you'll be well on your way to deciding whether bakuchiol is right for you.
What is bakuchiol?
"Bakuchiol is a star ingredient for sensitive and aging skin," says Dr. Anar Mikailov, MD, FAAD, a co-founder of Skintensive, a paraben- and phthalate-free skincare line. "An extract from the babchi plant, studies have shown that it helps trigger collagen production and cell turnover to plump the skin, improve appearance of fine lines and wrinkles, and to even skin tone without irritating the skin or causing photo-sensitivity like retinol."
It's worth noting that bakuchiol isn't the only plant-based alternative to retinol. In fact, De La Cruz says an entire category of ingredients called phyto-retinols exist, and bakuchiol is just one of many. You're hearing about bakuchiol more and more these days because it's starting to gain momentum in studies due to its performance (more on those specifics ahead).
What are the benefits of bakuchiol for skin?
If you've seen the miracles consistent and targeted retinol application can do for skin—from brightening sunspots to softening fine lines and wrinkles to tightening saggy skin—then De La Cruz says you have an indicator of what bakuchiol can do for the skin as well.
"Being a newer ingredient, studies on bakuchiol are somewhat limited, unlike the decades of information available on retinol, but there is data to support that bakuchiol helps target signs of aging, namely wrinkle surface area and hyperpigmentation, similarly to retinol but without dryness and irritation," she says.
For Dr. Mikailov, the fact that bakuchiol addresses so many of the same skin concerns as retinol—without the potential side effects—gives it a leg-up as a treatment for certain types of patients. "Usually sensitive skin and eczema-prone skin cannot tolerate retinol," he says. "As skin ages, it tends to become dryer and more sensitive, making bakuchiol a fantastic alternative, especially for mature skin."
And that's not all. If you suffer from acne, De La Cruz says you might find some relief from bakuchiol in that department, too. "Because it is naturally calming and antibacterial, bakuchiol can benefit breakout-prone skin by targeting acne-causing bacteria and sebum to promote clarity and a more uniform complexion," she says.
How can I use bakuchiol?
What's nice about bakuchiol is that it's available in several different formats, from face to eye products, so you can pick something that fits into whatever your current skin routine may be. That said, Dr. Mikailov, recommends a leave-on product like a serum, moisturizer, or oil. De La Cruz agrees.
"For maximum benefits, find leave-on products, like serums, exfoliators, masks, or hydrators that contain bakuchiol, so it can absorb into skin and start working most effectively versus a rinse-off product like a cleanser," she says.
Both experts also agree that since bakuchiol does not cause photosensitivity (sensitivity to UV rays)—another point of differentiation from retinol—you can use your favorite product containing it up to twice a day. And if you're a "more is more" skincare person, you'll be happy to know bakuchiol can hang with a variety of other potent ingredients, too.
"It partners well with other skincare actives, like antioxidants, vitamin C, and even gentle forms of retinol like retinyl palmitate," says Dr. Mikailov. "You may want to avoid combining it with exfoliating AHAs, as that could be a little bit too irritating for the skin."
What are the potential side effects of using bakuchiol?
"There aren't many potential negative side effects to bakuchiol," says Dr. Mikailov. "Because it is not a vitamin A derivative, it's a safe alternative to use during pregnancy." Want to give this hero ingredient a try? Whether you want to soften your skin, improve the look of its texture and any hyperpigmentation, or clear up acne, one of these picks powered by bakuchiol just might make you rethink retinol for good.
1
Bakuchiol + Retinol Dual Renewal PM Cream
"Formulated with bakuchiol and a gentle form of retinol, this moisturizer helps boost collagen production, minimize fine lines and wrinkles, and increase cell turnover to brighten complexion," says Dr Mikailov of his own formulation. If you're worried about irritation, let the sea buckthorn berry in this rich blend soothe the skin overnight.
2
Glo Skin Beauty C-Shield Eye Restore Hydrator
Talk about packing a punch for perking up puffy, dark under-eye skin! This silky cream features bakuchiol, alongside other peptides and vitamins, which all work together to target fine lines and crow's feet. Lightly dab some on for instant hydration, day or night.
3
Nourish Botanical Serum
Get your most supple, smoothest skin ever with this nutrient-rich, oil-based serum. Along with other botanical ingredients, you'll find bakuchiol in this potent blend from this Traditional Chinese Medicine-inspired beauty brand.
4
Squalane + Phyto-Retinol Serum
"Squalane is one of my favorite ingredients to moisturize the skin, as it closely resembles our own sebum," says Dr. Mikailov of this lightweight formula known for its quick absorption and safety for pregnant women. The phyto-retinol at work here alongside squalane? Yep—you guessed it—bakuchiol!
5
Bakuchiol Retinol Alternative Moisturizer
If you want to try out this trendy ingredient in a budget-friendly way, look no further than The Inkey List's moisturizer. Right after your serum sinks in, work a pea-sized amount into your face and neck and follow with sunscreen and/or makeup.
Using bakuchiol to see if it might clear up your acne? Then try this oil-free serum featuring the star ingredient alongside niacinamide, and a slew of other restorative ingredients. It can be used all over or as a spot treatment, and you can even upcycle the cute floral bottle packaging into a bud vase.
This content is created and maintained by a third party, and imported onto this page to help users provide their email addresses. You may be able to find more information about this and similar content at piano.io
https://www.womenshealthmag.com/beauty/g39588695/bakuchiol-for-skin/